Our curriculum is ambitious, diverse and research driven
INTENT
At Hunsbury Park Primary School, we recognise the vital contribution that physical education can make to a child's physical, social, emotional and cognitive development. We strive for all children to engage with and enjoy PE, aiming to ensure that our children understand the importance of physical activity and develop healthy, life-long habits. We also encourage our children to understand the relevance of PE beyond sports, and the impact that physical literacy can have on their wider lives.
We recognise the integral role we play in providing children with wide-ranging opportunities to develop essential physical skills, alongside every possible chance to achieve their potential in all areas. To support our children in this, we deliver PE through a combined approach: our curriculum is based around the Real PE framework, complemented by the integration of Real Gym, Real Dance and specialised sports lessons delivered by trained sports coaches. This combined approach offers an ambitious curriculum to our children that is tailored to their needs and mapped out across each phase. Our sports coaches are also trained in the Real PE approach, providing a consistent approach to learning.
As a school, we have chosen to invest in Real PE as we feel that it matches our vision and the needs of our diverse children. The scheme is varied, child-centred, inclusive to all and fully aligned with National Curriculum requirements, allowing us to include, support and challenge every child. It focuses on the continuous development of the fundamental movement skills of agility, balance and coordination which are vital in everyday life as well as physical activity, alongside developing cooperative learning and healthy competition. The continual development of these skills across the year groups supports our approach to learning, driven by research around retrieval practice to support more effective long-term learning.
Real PE focuses on six key areas that we feel are essential to the development of children as they learn. Within each of the key areas, we aim to provide our children with the following skills through the delivery of high-quality physical education.
Personal
For all children to see new challenges as a way to develop, demonstrating perseverance and resilience.
For all children to take responsibility for setting personal goals and to understand the importance of striving for their personal best.
Social
For all children to develop cooperative teamwork skills, able to involve and motivate others.
For all children to be able to deliver and receive constructive feedback to develop performance with integrity, compassion and respect.
Physical
For all children to be able to use fundamental movement skills safely and effectively across a range of activities.
For all children to be able to apply these skills consistently, in increasingly challenging and competitive situations.
Health and Fitness
For all children to be able to explain the basic components of fitness.
For all children to understand how to be active and healthy, and the long-term impact of this.
Cognitive
For all children to be able to review, analyse and evaluate their own or others' performance.
For all children to be able to react to different game situations, developing tactics and game play.
Creative
For all children to be able to use variety and creativity to enjoy and engage others.
For all children to respond imaginatively to different situations, including adjusting performance or tactics within games.
IMPLEMENTATION
PE Lessons
As with other subjects across the school, within a PE lesson, children will have a clear learning objective relating to one of the six key areas of Real PE. They will then have the opportunity to warm up, learn and practice physical skills and then apply them to various activities and games. Throughout PE units and lessons, there are opportunities for teacher assessment, as well as self and peer evaluation. Each unit of PE offers children the chance to revisit, retrieve and build on prior learning and skills.
EYFS
In EYFS, as well as working with school staff towards the Early Learning Goals, children receive one PE lesson per week, delivered by a qualified sports coach. These PE lessons are based around the Real PE framework with two terms dedicated to Real Gym to support children in further developing the key physical skills of strength, flexibility and body control alongside their agility, balance and coordination.
Phase 1 and 2
In Phases 1 and 2 (Years 1 to 4), children receive two full PE lessons per week: one delivered through Real PE by their class teacher and one delivered by a qualified sports coach. Each phase has a dedicated unit of Real Gym each year to enhance their physical skills. Both phases also have a dedicated unit of Real Dance to enable children to develop their creativity and confidence in exploring movement.
Phase 3
As in Phases 1 and 2, children in Phase 3 (Years 5 and 6) receive two PE lessons per week: one delivered through Real PE by their class teacher, and one delivered by a qualified sports coach. In Phase 3, children are provided with increased opportunity to develop their skills in competitive situations and work towards both intra and inter school competitions. Elements of Real Dance and Real Gym are also incorporated to ensure a broad curriculum, allowing opportunities for creativity, expression and greater confidence in using large apparatus. Children in Year 6 also partake in swimming lessons in order to learn to swim confidently over a distance of 25 metres, use a range of strokes effectively and perform safe self-rescue.
Extra-Curricular Opportunities
At Hunsbury Park Primary School, we aim to provide a variety of additional opportunities for children to engage in physical activity and we understand how valuable these additional experiences can be for our children. These include active games during break times, using the MUGA (multi-use games area) and outdoor fitness equipment, as well as through sports coach led games during lunch times. We offer a variety of sporting after-school-clubs to cater for a range of interests and take an active role in the Northampton School Games. Teams are regularly selected from across the school to be trained and take part in sporting events and competitions and we are part of a local cluster of schools to facilitate further opportunities for inter school competition. To promote further physical activity, we take part in external initiatives such as 'Beat the Street' and 'Walk to School Week'. We firmly believe in the importance of our children having additional active experiences outdoors in Forest School and, during Year 4 and Year 6, outdoor adventurous activities (OAA) opportunities are provided through residential trips.
IMPACT
By the time children leave Hunsbury Park Primary School, they display positive attitudes towards PE and physical activity and understand its importance as part of a healthy lifestyle. Our children will have progressed in their fundamental movement skills and be experienced in applying these to a range of situations. They will be able to challenge themselves appropriately to achieve their personal best, work cooperatively as part of a team and know how to analyse performance.
Attainment will be assessed using:
Real PE unit baseline and end assessments
Regular teacher assessment within lessons
Observation of application and development of physical skills
Self and peer assessment opportunities
Pupil voice
Learning walks conducted by the PE Coordinator
Termly assessments against age-related expectations
SEND AND DISADVANTAGED PUPILS
Our ambition is for every child across the school to be able to access the full PE curriculum as well as a range of additional experiences. Real PE, alongside adult and peer support, allows all children to progress their fundamental movement skills at a suitable pace for them to be able to achieve their personal best. The Real PE curriculum incorporates fully inclusive sports, and we enter inclusive School Games competitions. We also prioritise supporting our disadvantaged children to access the extra-curricular opportunities we have on offer.
How Does PE Promote British Values?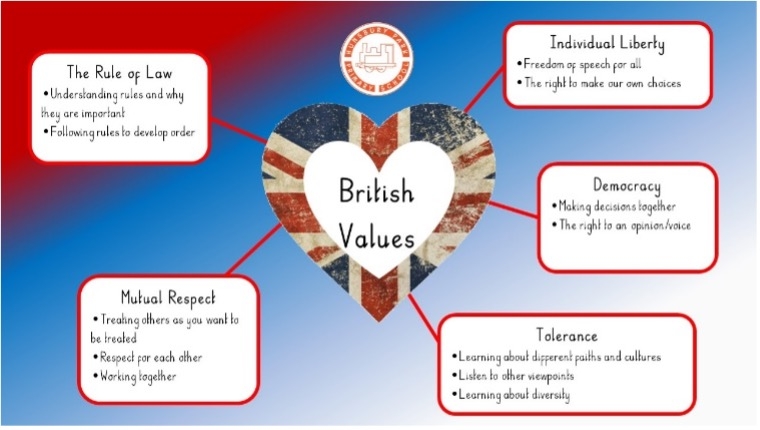 PE and school sport provide many opportunities, including within healthy competition, to build character and help embed values such as fairness and respect.
Democracy
Through PE, children learn how to behave as part of a team, understanding and taking on different roles and responsibilities and making decisions which impact others.
The Rule of Law
Children are taught about age-appropriate rules, fairness and respect through a variety of PE activities. They also learn how to accept both winning and losing whilst developing vital social and problem-solving skills.
Individual Liberty
PE recognises and offers the chance to celebrate individual differences. Children develop the ability to make judgements about their own and others' performances and confidently express their opinions, whilst respecting those of others.
Mutual Respect and Tolerance
Through PE, all children can access competition and demonstrate appropriate behaviour and regard for rules and regulations. Children engage with PE without stereotyping or discrimination, learning to work collaboratively and cooperatively and embracing diversity among their teammates.
Physical Education Documents